Biography
"
You're the son of Zapp & a Roland Sh 101
"
Fabrice Lig is considered by his peers & techno fans around the globe as a world class producer.
He is well known for his particularly funky use of Roland's sh101 analog synth, and for his particularly emotional and personal melodies and harmonies.

There is no doubt that after more than 20 years of teaching himself production processes, complex midi programming and harmonies, Fabrice's sound is unique and recognisable among the thousands of weekly techno releases.

Demonstrations of these skills appear on the crème de la crème of electronic music labels such as KMS (Kevin Saunderson), Planet-e (Carl Craig), Submerge, R&S, Third Ear, 7th City Records (Dan Bell), F-Communications (Laurent Garnier) , Versatile, Classic, Compost, Subject Detroit, Motech, Raygun, Playhouse Records, Kanzleramt (Heiko Laux), 70 Drums (Ken Ishii), Clone, Trapez ltd and so on...An exceptional discography into mythic labels, into history of electronic music.
By the end of 1998, after his first DJ and production experiences, under the Interwaves and Bug Orchestra nicknames, Fabrice was elevated to the ranks of the Detroit musical elite by Mad Mike himself, thanks to his classic remix of E-Dancer's Banjo track on KMS: "Fabrice is a part of Detroit music's history by being the first white producer to record on KMS, and the first double groove recording from NSC".
Fabrice has built a solid discography and reputation, confirmed by his reknowned appearances at the world's best clubs & festival line ups such as Panorama Bar-Berlin, Fabric - London, Womb-Tokyo, Detroit Fuse-In Festival, Fuse - Brussels, Loft - Barcelona, Sub Club - Glasgow, The End - London, Sonar Festival, world famous official Montreux Jazz Festival, Bourges festival (On stage with Jean-Michel Jarre ), to name but a few. One of the highlight of Fabrice dj career is the paper into Detroit Free press where his performance was voted best dj Set of 2005's Detroit Fuse-in Festival.
Fabrice also collaborated and remixed some artists like Laurent Garnier, Kevin Saunderson, Agoria, DJ Hell, Ken Ishii, Kenny Hawkes, Rob Mello, Frederic Galliano, Chymera, Trüby Trio…
After his last Soul Designer's album on Third Ear (2007), Fabrice decided to take a bit of a break from music and concentrate on some educational projects. Nevertheless, he released his classic Purple Raw EP on Versatile in that period, as well as some own EPs on R&S, Subject Detroit, .. next to a few remixes. Over the last few months however, Fabrice quietly prepared the celebration of 20 years of music by producing a new album with the idea to make a strong "come back" with fresh material for late 2014.

And when Carl Craig first heard "Galactic Soul Odysseys", he instantly decided to invite Fabrice to join Planet E's prestigious family. Once again, Fabrice work is entering history of music through one of the most respected labels from the techno community.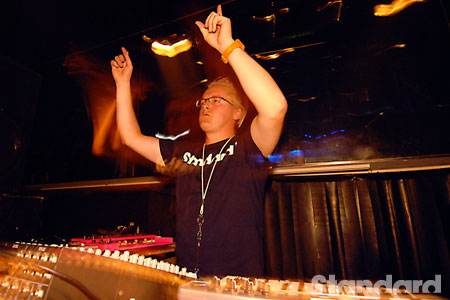 Fabrice is really excited to be back on tour for live performances around the globe and to present that new material to his fans...

As Jean-Michel Jarre said in an interview for MTV : "What is touching me in Fabrice Lig's career is the way he is following his own line, without caring about trends, and that's the path an artist should follow. It is not post Detroit, it's an emotion"
Selected CLUBS (Live or Dj set) :
Fabric-London (UK), Womb-Tokyo (Japan), Panoramabar-Berlin (Ger), The End-London (U.K), Sub Club Glasgow (Scotland), Club Milieu (Singapore), Fuse club-Brussels (Be), CCA-Glasgow (Scot), Maria Club-Berlin (Ger), Club 672/StatdGarden-Koln (Ger), Think-Tank –Leeds (UK), Loft-Barcelona (Spain), Atmosphere-Kuala Lumpur (Malaysia), D-Edge-Sao Paulo (Brazil), Rosthoflager-Zurich (Switz), La Fabrique-Tokyo (Japan), Club AIR-Tokyo (Japan), Ma-Do Lounge (Tokyo), Module-Tokyo (Japan), Seco Bar/Club-Tokyo (Japan), Club Underground-Nagoya (Japan), Precious Hall-Sapporo (Japan), Club Lab.Tribe-Kyoto (Japan), Club Dawn-Osaka (Japan), Club Tango-Beijing (China), Guandi-Shanghai (China), La Fabrique- Shanghai (China), Shanti-Moscow (Russia), SPKZ-Sao Paulo (Brazil), De Puta Madre-Belo Horizonte (Brazil), Confraria Das Artes-Florianopolis (Brazil), Dama De Ferro-Rio De Janeiro (Brazil), The Liquid Lounge-Glasgow (Scotland), Silo-Leuven (Be), Made in Brussels (Be), Sonik-Brusssels (Be), Sektor 909 (Skopje), Decadence-Gent (Be), Pure club-Tournai (Be), Vox Populi-Tel Aviv (Israël), Tresor club-Berlin (Ger), WMF club-Berlin (Ger), No Ufo's-Berlin (Ger), Ostgut-Berlin (Ger), Art Theatre-Koln (Ger), Robert Johnson-Offenbach (Ger), Phonodrome-Hamburg (Ger), Depot- Stuttgart (Ger), Maria Club-Berlin (Ger), Club 672-Köln (Ger), Rotary –Frankfurt (Ger), Club B2-Skopje (Macedonia), La Villa Rouge-Montpellier (France), Olympic-Nantes (France), Le Cabaret Voltaire-Paris (France), Grodan Cocktail club-Stockholm (Sweden), Auftrieb 2000/Labor-Hannover (Ger), Lasal Club-Barcelona (Sp), Nighttown-Rotterdam (Nl), Bootleg Café-Rotterdam (Nl), Public Life Club-London (uk), Doornrosje-Nijmegen (Nl), Rex Club-Paris (Fr), Mezzanine de l'Alcazar-Paris (Fr), Batofar-Paris (Fr), Le Nouveau Casino-Paris (France), Loft Club-Lausane (Switz), L'Usine-Genêve (Switz), La Case à Choc-Neûchatel (Switz), HQ's-Dublin (Irl), Les docs du Sud-Marseille (France), Kerma-Helsinki (Fin), Cargo de Nuit-Arles (Fr), Le Tryptique-Paris (Fr), Slopes club-Vienna (Austria), Infiltration parties-Lisboa (Portugal), Cadran-Liège (Be), Rockerill-Charleroi (Be) ...
Selected PARTIES & FESTIVALS (Live or Dj set) :
Montreux Jazz Festival (Switz), Glastonbury Festivals (UK), Detroit Fuse-In Festival 2005 Main stage –Detroit (USA), Sonar 2002 Festival-Barcelona (Spain), MEG festival-Montréal (Canada), Ten Days Off Festival-Gent (Be), 5 Days off-Amsterdam (NL), Ososphère Festival-Strasbourg (Fr), Nordik Impact Festival-Caen (Fr), Opaque-Columbus (Usa), Underground Resistance night at Decadance club-Gent (Belgium), Sequence Festival-Vienna (Austria), Malfunction 3rd anniversary-Columbus (Usa), Le Printemps de Bourges with Jean-Michel Jarre on stage (Fr), Koneisto-Helsinki (Finland), ISEA 2004 (Finland/Sweden), I Love Techno-Gent (Be), Respect is Burning !–Kuala Lumpur (Malaysia), Les Ardentes-Liège (Be), Novalectra Festival-Eindhoven (NL), Mixmove Salon-Paris (Fr), Dj's attack-Toulouse (Fr), BMX-Tra championship-Knokke (Be), Wex Festival (Be), Nuits du Botaniques-Brussels (Be), Les sensations d'Esfacy (Fr), Dour Festival (Be), Alive Festival-St Vith (Be), Nandrin Festival (Be), Festivibe-Aiseau Presles (Be), Osmose at l'Aéronef-Lille (Fr), Techno Garden Party-St Omer (Fr), Cosmopolis-Lisboa (Portugal) ...
Business :
Fabrice Lig plaid for these companies :
Jean-Paul Gaultier official after show at La Fabrique, Shanghai, China.
Gauloises blondes : La Fabrique Tokyo, Japan.
Chivas : Club Tango Beijing, Club Guanda Shanghai, China.